Table of contentsEBIZPLATFORM includes tools to determine where there are too many options for a particular application within a product line – the opposite of a fitment gap. When too many options are presented to a consumer, they can be confused, select the wrong configuration or generally not trust the data enough to make a decision.
Report Options & Uses
The Fitment Quality tool is designed to identify where we have too much fitment or no fitment at all, before a consumer finds the fitment gap.
Select the product line you want to work with.
Select the number of occurrences that should populate the report. You may select 0 to find applications that have no fitment rules within the product line, or any other number to find the number of duplicates. For example, selecting 2 will show all applications having 2 or more identical fitments.
Selecting the "Include Items with Attributes" will contemplate item attributes into the report. Unselecting this option will only go as deep a trim, sub model and position.
The "Look Back" feature allows you to narrow the data set by recency.
Report Data
Once run, the report will show you all the instances where applications meet the criteria selected on the previous screen. In the example below, we see that we have multiple fitments in several of the Audi models and years. This could be confusing to a consumer.
Resolving Duplicate Fitment
To solve the duplicate fitment click the resolve button to launch a tool with the duplicates isolated. As you can see below, the make, model, year and trim do not differentiate between the two items shown.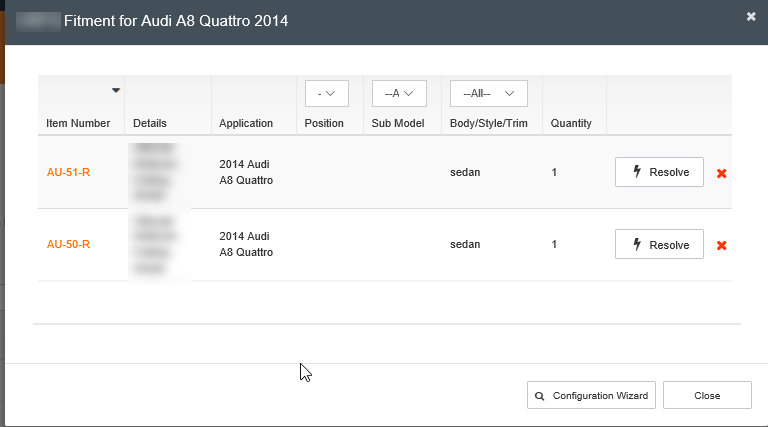 Resolve the issue by again clicking the "Resolve" button in the tool for one of the duplicates. From here you can add the differentiating characteristics of the fitment rule to create unique and distinct fitments. Notes can also be used to guide the consumer to the correct item.
You can also jump directly to the Fitment Wizard from here.